About Us
About SuEllen's Floral Company
In 1967 SuEllens parents opened a flower shop in the suburb of Hoffman Estates, Illinois a northwest suburb of Chicago, called Fabbrini's flowers. It was a family business and all 4 children worked in the shop at an early age. SuEllen, being the oldest, learned how to run a flower business from the ground up, literally, from sweeping the floors to running their Woodfield mall store and managing the entire operation of 3 locations.SuEllen's college education focused on interior design and marketing.

After starting a family in 1980's she decided to move to Florida in 1988 and settled in at cape coral, Florida. It was a slower pace and was a much nicer place to raise a family. Working in a local flowers shop and then managing a silk flower shop and Christmas store. Working with several interior designers and home builders, and teaching floral design classes, her designer experience flourished. She designed plantscapes and florals and also installed new home silk florals.

In 1990 an opportunity rose for SuEllen to purchase her own flower shop, which was her ultimate goal. Her children Amanda and brad were raised at the flower shop and were taught the value of hard work. She has been active in the community with donations and works with all the local schools. SuEllen's family husband tom, and daughter Amanda and son brad still help out in the family business.

As one of the top florists in the state of Florida SuEllen's floral company offers the best assortment of fresh flowers, roses, plants and silks. They pride themselves on the special system of hydrating for the care and handling of flowers. The company motto is ... "we do it right the first time, every time" .... The design of each flower arrangement is done with the utmost care.

SuEllen's Floral Company is dedicated to providing the best experience for you and want you to become one of our satisfied regulars.
"…. to us you're not just a another customer, you're like family!"
SuEllen's Floral Company
1545 Del Prado Blvd South
Cape Coral, FL 33990
---
Store Hours:*
*Our shop is open from 9:00 a.m. to 5:00 p.m., Monday through Friday and from 9:00 a.m. to 1:00 p.m. on Saturday. We are closed on Sundays. To help assure on-time delivery during the busy holiday season, place your order at least 1 day prior to the following major holidays: Thanksgiving Day, Christmas Day, New Year's Day, Valentine's Day, Easter, Administrative Professionals Week, Mother's Day, Memorial Day, Father's Day, Independence Day and Labor Day. Our shop will always be closed on the following holidays: Thanksgiving Day, Christmas Day, New Year's Day, Easter, Mother's Day, Memorial Day, Father's Day, Independence Day and Labor Day.
Payment Options
We accept the following payment methods:
Visa
MasterCard
Discover Network
American Express
Will Call In
Pay In-Store on Pick Up

Contact Information
If you have any questions or need more information, please contact us by e-mail at SUELLENSFLORAL@AOL.COM or call us directly at . We're always here to serve you and make your flower-sending experience a pleasure.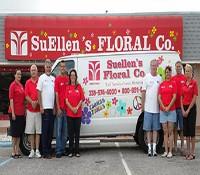 Areas Served
Suellen's Floral Company Serves the Following Areas:Cape Coral and Fort Myers
| | | |
| --- | --- | --- |
| Access Infusion Partners | Akin-Davis Funeral Home | Anderson Funeral Home |
| Baby Place | Barkley Place | Barkley Surgicenter inc. |
| Barrett Funeral Chapel | Beacon Villas | Buccaneer Mobile Estates |
| Calusa Harbour | Cape Chateau | Cape Coral Hospital |
| Children's Hospital | Children's Hospital Extnd Care | Clare Bridge |
| Coral Ridge Funeral Home | Coral Trace Manor | Cremation 500 Inc. |
| Cypress Cove | Cypress Manor | Cypress Square |
| Emeritus Assisted Living | Encore Senior Village | Family Home Care II Inc. |
| Fort Myers Memorial Gardens | Ft. Myers Presbyterian Cmnty | Fuller-Metz Cremation |
| Good Samaritan Adult Residence | Grand Court Fort Myers | Gulf Coast Hospital |
| Gulf Coast Village | Harvey-Engelhardt Metz Funeral | Healthpark Care Ctr. |
| Healthpark Medical Ctr. | Heartland Health Care Ctr | Hickson Funeral Home |
| Hope Hospice | Horizon Funeral Home | Inn At Cypress Cove |
| Integrated Health Svc | James C Boyd Funeral Home | Kath Mcfarland Schmidt Funeral |
| Lakes | Lazy Days Mobile Village | Lee Convalescent Ctr. |
| Lee Convenient Care | Lee Memorial Health System | Lee Memorial Health Systems |
| Lee Memorial Park | Lee physician Group | Manor Care Health Svc. |
| Meadowbrook Park Assisted Living | Millie's Convalescent Care | Mullins Memorial Funeral |
| Myerlee Manor Condo Assn. | Nation Cremations Society | Neville Golden Age Nursing Inc |
| Palms of Fort Myers | Park Club Of Fort Myers | Pavilion At village |
| Peridot Place | Peridot Place of Cape Coral | Phil Kiser Funeral Home inc |
| Physician Referral Svc | Physicians Surgery Ctr | Pleasant View Retirement Ctr |
| Rehabilitation & Health Care | Retirement Educators | Riverside Village Inc |
| Riverwalk Lmhs | Riverwalk Surgery Ctr | Seacrest Healthcare |
| Senior Living Guide | Sfi Ambulatory Surgery Inc | Shady Rest Care Pavilion Inc |
| Shell Point | Southwest Regional Medical Ctr. | Springwood court |
| Sterling House | Summerlin Bend Surgery Ctr. | Surgi Care Ctr. |
| Tamiami Village Mtd Home Park | Tandem Healthcare | Trauma Surgeons of Lee Meml |
| University Eye surgery Ctr | Us Veterans Outpatient Clinic | Villa Palms Assisted Living |
| West Florida Cluster Office | Westbay Assisted Living | Westwood Manor |
Specialty Services
We specialize in the following services:
Large inventory of fresh flowers for any occasion
Weddings / Wedding Flowers
Sympathy and Funeral flowers
Birthday Flowers, Get Well Flowers, Anniversary Flowers
Plants
European/dish gardens
Modern and traditional flower arrangements
High-style floral arrangements
Silk flower arrangements
Dried floral arrangements
Extensive gift line
Gourmet fruit baskets
Gift baskets
Greeting cards
Substitution Policy
Occasionally, substitutions may be necessary to create your bouquet due to the availability of certain flowers in various parts of the country. Care is taken to maintain the style, theme and color scheme of the arrangement, using flowers of equal value. Additionally, the substitution of certain keepsake items may be necessary due to increased demand, especially during major holidays. In single-flower arrangements, such as an all rose bouquet, or orchids, we will make every attempt to match the flower type, but may substitute with another color.
Privacy Policy
This privacy statement has been created in order to demonstrate our firm commitment to protecting customer privacy.

Information We Collect

If you open an account on our site or make a purchase, we need your contact information including your name, e-mail address and mailing address to complete your transaction.

When you visit our website, we also collect some basic information that does not identify individual users. We use this information to determine our users demographics and interests, so that we can better understand and serve our users.

"Cookies"

Cookies are small files which store certain information about your activity on the website and are stored on your computers hard drive. Our cookies do not contain any personally identifying information. We use cookies to let us know that you are a prior customer, so that you dont have to reenter information you gave us on your prior visits. Most web browsers automatically accept cookies, but most allow you to instruct your browser to prevent the use of cookies. However, if you disable cookies, you will not be able to use certain features of this website.

Our Use and Disclosure of Your Information

When opening an account or making a purchase, you have an opportunity to opt-in or opt-out from receiving emails from us. If you opt-in to receive information from us, we may use your purchase history, contact information and other registration information to provide you with more relevant information and email content. We may send emails to our users regarding changes in our services or other information we believe will be of interest to our users. If you prefer not to receive these emails, you can send us an email with the subject line no emails or reply to our email with the subject line no emails.

If you send us personal correspondence, such as emails or letters, or if other users or third parties send us correspondence about your activities on our site, we may collect such information. We may use that information and other information that we obtain from your use of our site to resolve disputes, troubleshoot problems and enforce our agreement for Terms of Use.

We may share aggregate statistics about our sales, traffic patterns and related site information with other businesses, but these statistics will include no personally identifying information.

We may share your information with Teleflora and other reputable vendors for the purpose of sending out special offers via email and/ or in connection with the services provided by our site such as the delivery of flowers. Your information will not be shared for any other purpose and will be kept secured.

We cannot ensure that all of your private communications and other personally identifiable information will never be disclosed in ways not otherwise described in this Privacy Statement. For example, we may be required to disclose information to the government or third parties under certain circumstances, or third parties may unlawfully intercept or access transmissions or private communications. We can (and you authorize us to) disclose any information about you to law enforcement or other government officials as we, in our sole discretion, believe necessary or appropriate in connection with an investigation of fraud, intellectual property infringements, or other activity that may be illegal or may expose us to legal liability.

Security

This site has security measures in place to protect the loss, misuse and alteration of the information under our control.

All user credit card information is securely communicated using secure socket layer (SSL) software, which is the industry standard and among the best software available for secure commerce transactions.

All user information stored on our server is stored in an encrypted format. Notwithstanding these efforts, we caution you that perfect security does not exist on the Internet.

Linked Sites

If this site contains any links to other websites, we are not responsible for the privacy practices or the content of such websites.

Changes to Privacy Statement; Consent

We may update this Privacy Statement from time to time. You should check this page periodically for changes. By using our site, you consent to the collection and use of your information by us as described in this Privacy Statement.

Questions and Comments

We welcome your questions and comments about this Privacy Statement.